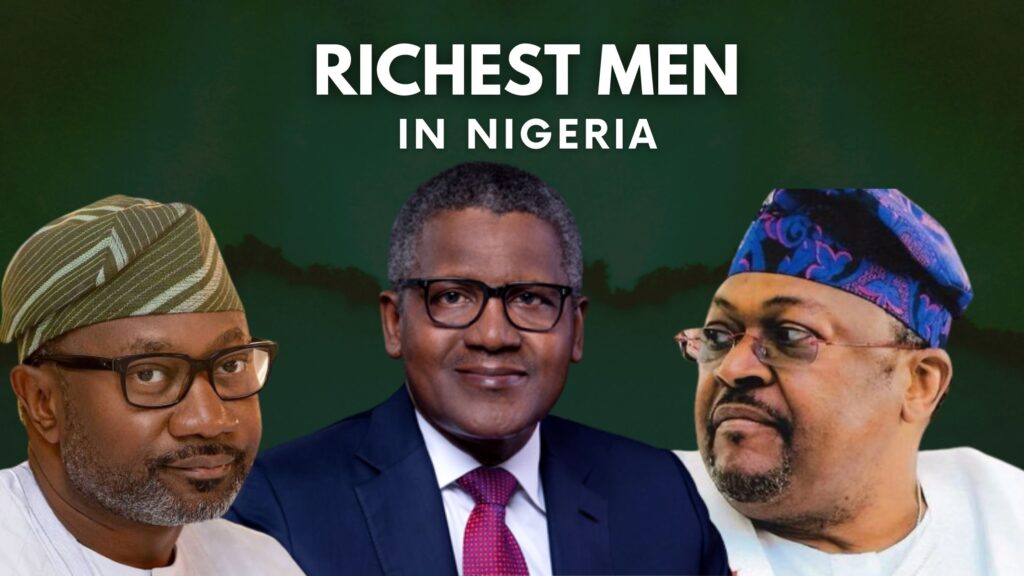 Are you wondering about the richest men in Nigeria? If that it's, we have compiled a list of the top 10 richest men in Nigeria in this article. The richest men in Nigeria are people of class and caliber. They own multi-million dollar conglomerates and sit on the board of directors of various high-profile multinational companies both in Nigeria and abroad.
A big thanks to Forbes and other prominent websites that publish updates about these eminent people, we have enough information about the top richest people in Nigeria and what they do.
According to a recent study, Nigeria's five richest men's combined wealth of $29.9 billion might put an end to the country's terrible poverty. The enormous and widening gap between the rich and the poor is revealed in the report "Inequality in Nigeria." It demonstrates how a privileged elite has profited from economic expansion at the expense of common Nigerians.
One of the main causes of the conflict that has resulted in the severe food crisis in Nigeria's northeastern states is economic disparity. Five million people in north-east Nigeria are expected to experience acute food shortages this year, according to the UN.
Top 10 Richest Men in Nigeria
1. Aliko Dangote ($14 billion)
Aliko Dangote is the richest man in Nigeria and Africa at large (2022 Forbes List), with a net worth of $14 billion. No explanation as to why he is the first on the list of the top 10 richest men in Nigeria.
Dangote was born 62 years ago and graduated from Al-Azhar University in Egypt with a Bachelor of Arts and Science. His primary source of wealth is Cement and Sugar; producing food items and building materials. His company's products include Dangote Pasta, Sugar, Flour, Salt, and Cement. All of these companies trade publicly on the Nigerian Stock Exchange, and their stakes in them are huge.
His holding company has a stake of shares worth 85 % of Dangote cement, which is a public liability company. This company operates in ten African countries and produces 45.6 million metric tons of Cement yearly.
To solve Nigeria's constant fuel crisis, three years ago, he started the construction of the Dangote Refinery. When completed, it will be the largest oil refinery in the world. This will lead to a significant rise in his net worth. Aliko Dangote is first on our list of the top 10 richest men in Nigeria.
2. Mike Adenuga ($7.9 billion)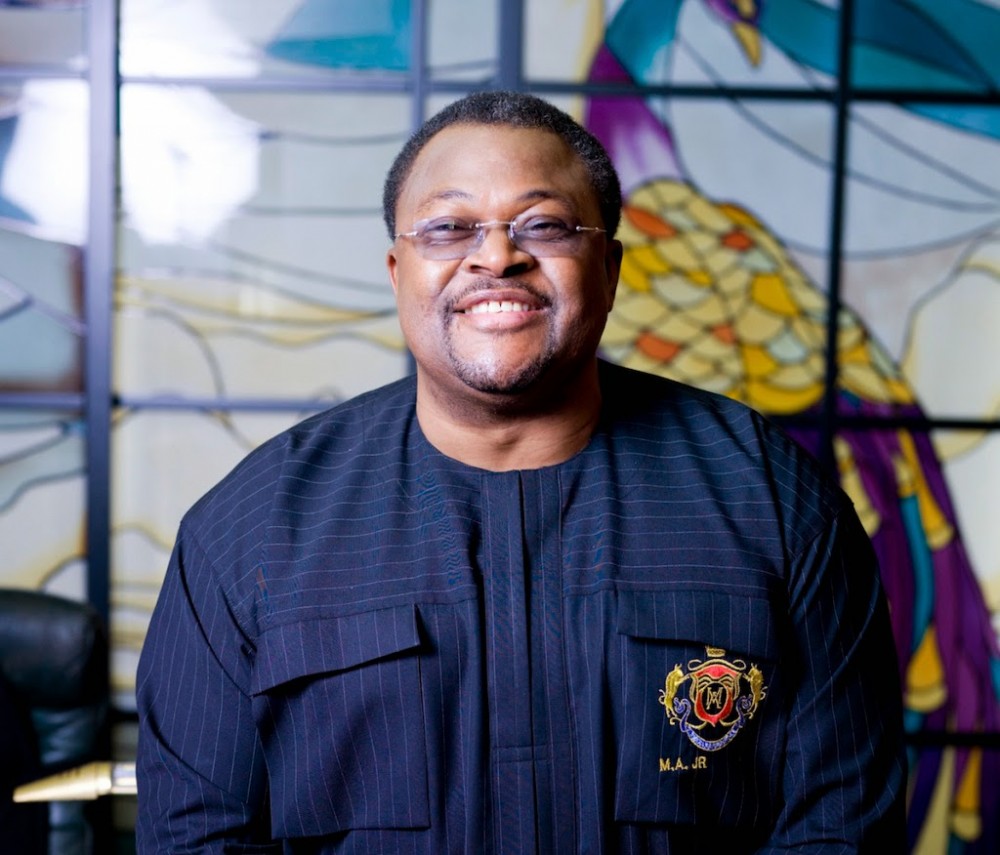 Mike Adenuga has a net worth of $7.9 Billion and he is an important man among the richest men in Nigeria. The Nigerian billionaire Mike Adenuga has a $7.9 Billion total net worth.
That places him behind Nigerian oil tycoon Aliko Dangote as the second-richest black person on the globe. Mike Adenuga, who prefers alone, amassed a massive fortune in oil and mobile telecommunications.
In 2006, he launched Globacom, the second largest mobile phone network in Nigeria. The company, which serves more than 24 million consumers in Nigeria, also conducts business in the Republic of Benin, where it recently obtained permits to open offices in Ghana and the Ivory Coast.
Mike Adenuga is the CEO of Globacom – Nigeria's second-largest telecommunication provider after MTN. Globacom also has a presence in Benin, Ivory Coast, and Ghana. He owns stakes in the Equitorial Trust Bank and the oil exploration firm Conoil (formerly Consolidated Oil Company). He made his fortune in the oil business and telecommunications. Mike Adenuga is second on our list of the top 10 richest men in Nigeria.
3. Femi Otedola ($5.9 billion)
Another important person among the richest men in Nigeria is Femi Otedola. Businessman, philanthropist, and former chairman of petroleum importer Forte Oil PLC, Femi Otedola was born in Nigeria on November 4, 1962.
Otedola founded Zenon Petroleum and Gas Ltd. and also owns a variety of other companies in the financial, real estate, and shipping industries. As part of Nigeria's recent liberalization of the industry, he just invested in power generation.
Aside from Dangote, Femi Otedola is the next person Nigerian hip-hop musicians tend to use as a symbol of how wealthy they want to be. He is the third on the list of the top 1o richest men in Nigeria.
Indeed, Femi Otedola is a wealthy man considering his mouth-watering net worth of $5.9 billion. Born on the 4th of November 1962 in Ibadan, Femi Otedola is a well-known CEO, entrepreneur, and philanthropist. He is the father of a famous Nigerian disc Jockey; DJ Cuppy. Femi Otedola is third on our list of the top 10 richest men in Nigeria.
4. Arthur Eze ($5 billion)
Arthur Eze has a net worth of $5 billion and he is among the richest men in Nigeria. He is the owner of Atlas Oranto Petroleum, and he is also from a royal family in Anambra State, Nigeria.
He is a politician as well as a philanthropist. He has been given the ancient Ndi Igbo title "Ozoigbondu." On November 27, 1948, in Ukp, Dunukofia LGA, Anambra State, he was born. He is a Prince born into a traditional Royal Family and the owner of the largest privately-held oil exploration and production company in Nigeria.
Following the deregulation of airlines in Nigeria in 1992, the business magnate created Triax airlines a year after founding Atlas Oranto. Triax Airlines had three Boeing 727s in its fleet and operated out of Enugu Airport before folding up in 2000.
Arthur Eze is not just a successful businessman but also active in Nigerian politics. In his living room, the All Progressive Grand Alliance (APGA) political organization was founded. Arthur Eze is fourth on our list of the top 10 richest men in Nigeria. Additionally, Arthur Eze is the richest person in Anambra State.
5. Abdulsamad Rabiu ($3.7 billion)
Abdul Samad Rabiu has a net worth of $3.7 Billion and he is among the richest men in Nigeria. He is a Nigerian billionaire, entrepreneur, and seasoned industrialist well known for his expertise in commodity trading. He is the founder and Chief Executive Officer of BUA Group, a Nigerian conglomerate with an interest in agriculture, infrastructure, manufacturing, logistics, and port operations.
His father was a prosperous businessperson, who willed enormous Land to Rabiu. Rabiu attended Capital University, Ohio, in the USA, and started his own business in 1988 by importing iron, steel, and chemicals.
Abdulsamad Rabiu bought the Nigeria Oil Mills and is the main shareholder of BUA PLC, a publicly-traded company. After a merger of the Cement Company of Northern Nigeria and his private company called Obu, he now has 98.5% shares in the BUA PLC. Abdul Samad Rabiu is fifth on our list of the top 10 richest men in Nigeria.
6. Cletus Ibeto($3.5 billion)
Cletus Ibeto is also among the richest men in Nigeria. From an unprecedented beginning as a motor parts dealer, Cletus Ibeto is now one of the richest men in Nigeria.
Nigerian businessman, entrepreneur, and humanitarian Cletus Ibeto. The largest union in the Eastern region of Nigeria, the Ibeto Group, is headed by him as its founder and chairman.
On November 6, 1952, in Nnewi, Anambra State, Cletus Ibeto was born. Primary school was something that little Cletus Ibeto always looked forward to and yearned for.
At the age of 13, he was admitted to Crusader Secondary School in Isingwu Amachala, Umuahia. His father's decision prevented him from pursuing his fantasy of attending primary school on the day he was supposed to resume his education alongside his older siblings, Cyril and Louis Ibeto. Cletus Ibeto is sixth on our list of the top 10 richest men in Nigeria.
7. Orji Uzor Kalu ($3.2 billion)
Orji Uzor Kalu has a net worth of $3.2 billion and he is also among the richest men in Nigeria. He is a Nigerian businessman, entrepreneur, and politician. He is the seventh person on our list of the top 10 richest men in Nigeria.
More so, Orji Kalu is the chairman and founder of SLOK Holding and the Daily Sun and New Telegraph newspapers in Nigeria. He also served as the Executive Governor of Abia state from 29 May 1999 to 29 May 2007.
With a net worth estimated at $3.2 billion, we can agree that Orji Uzor Kalu is indeed a stupendously wealthy man. He is seventh on our list of the top 10 richest men in Nigeria
8. ABC Orjiakor ($1.2 billion)
ABC Orjiakor has a net worth of $1.2 billion and he is among the richest men in Nigeria. He made his wealth from the oil and gas sector. He is the Chairman and co-founder of SEPLAT, an independent gas and oil company in Nigeria. He once worked as an Orthopedic and Trauma Surgeon at Lagos Teaching Hospital and National Orthopedic Hospital.
Dr. Ambrose Bryant Chukwuemeka Orjiako, sometimes known as ABC Orjiako, is a medical doctor by training who later became a commercial magnate and billionaire with holdings in the oil and gas, shipping, banking, insurance, and pharmaceutical industries.
He founded and oversaw several businesses in Nigeria's upstream, downstream, and service sectors of the oil and gas industry. These companies include Shebah Exploration and Production Company Limited, Zebbra Energy Limited, Abbeycourt Trading Company Limited, and Abbeycourt Energy Services Limited.
Additionally, he has business holdings in shipping, medicines, real estate development, and construction. After practicing medicine for eleven years, he entered business full-time in 1996. ABC Orjiako is eighth on our list of the top 10 richest men in Nigeria.
9. Jimoh Ibrahim( $1 billion)
Jimoh Ibrahim has a net worth of $1 Billion and he is among the richest men in Nigeria. He is another rich businessman to reckon with in Nigeria. He was born in a remote village in Ondo State on the 24th of February 1967 to a local fish seller mother and a bricklayer father.
He works as a lawyer, politician, businessperson, and philanthropist. Ibrahim is a native of the southwest Nigerian state of Ondo. The business tycoon officially announced his desire to run on the APC platform for the Ondo South Senatorial District in April 2022.
He is the CEO of Global Fleet Group. He is also the director at the prestigious Nicon group which has several subsidiaries. They include Nicon Academy, Nicon Airways, Nicon Energy, Nicon Hotels, Nicon Insurance, Nicon Investment, Nicon PFA, Nicon properties, Nicon Trustee, Nicon United Kingdom, and Nicon Sao Tome. Jimoh Ibrahim is ninth on our list of the top 10 richest men in Nigeria.
10. Tony Elumelu ($900 million)
Tony Elumelu has a net worth of $900 Million and he is also among the richest men in Nigeria. He is a well-respected man in Nigeria, particularly amongst the youths and business owners.
He is the chairman of Heirs Holdings, the United Bank for Africa, Transcorp, and founder of The Tony Elumelu Foundation. Tony Elumelu is an economist, philanthropist, and entrepreneur.
Tony Elumelu trained as an economist from the then Bendel State University Ekpoma and is also an Alumnus of the Harvard Business School. He started his banking career at the now-defunct Allstates Trust Bank owned by Ebitimi Banigo and rose through the ranks to the top. He later led a group to acquire the then Standard Trust Bank and merged it with UBA in 2005.
In 1985, Elumelu joined the Union Bank as a member of the National Youth Service Corps' Youth Corp. Elumelu acquired Standard Trust Bank at the outset of his financial career in 2005, and United Bank for Africa (UBA) was acquired later.
Elumelu founded Heirs Holdings, which invests in the financial administrations, energy, land and hospitality, agribusiness, and health care sectors, after leaving UBA in 2010. He established the Tony Elumelu Foundation, a nonprofit with a base in Africa and African support, that same year.